Temperature reduction from over 1000 °C down to 60 °C.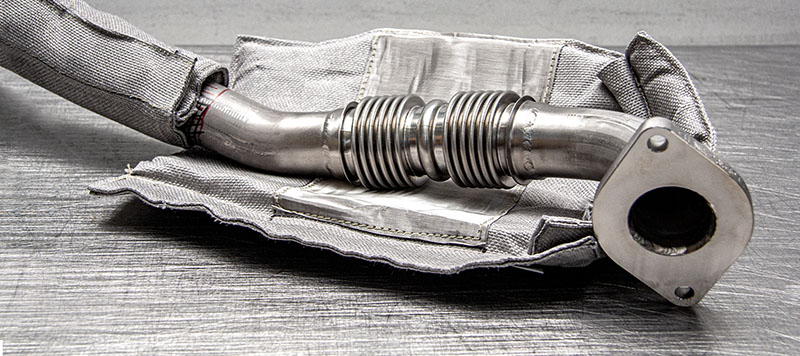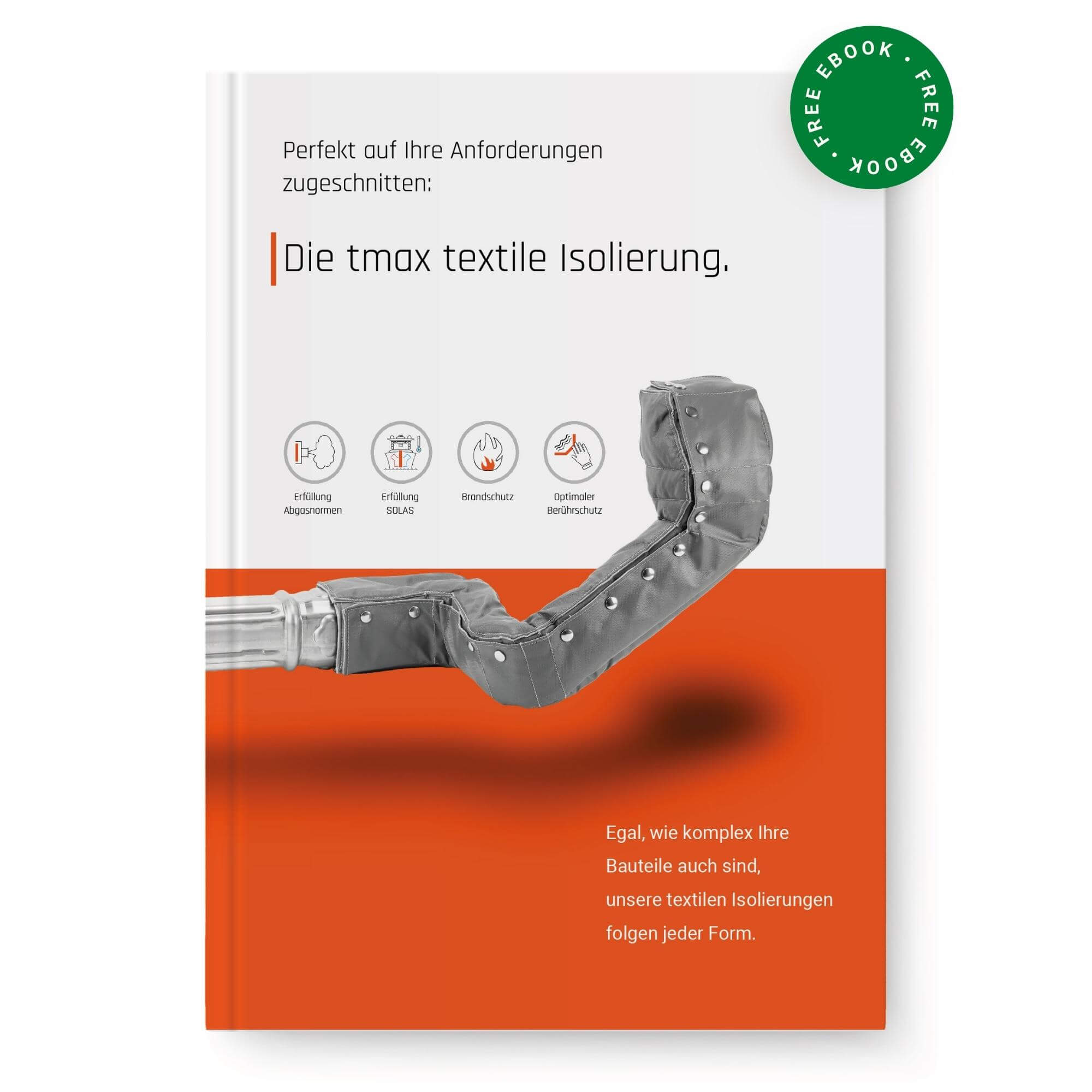 Our insulation solutions

prevent fires
Optimum contact and fire protection with tmax Textile insulation
Get the probably most comprehensive e-book on the subject of textile insulation.
The best alternative to

the metal insulation solution
The features of a textile insulation
Optimal contact protection
Our textile insulation solutions are removable multi-component insulation shells, made of technical fabrics with incorporated insulation material. The insulation thicknesses depend on the structural requirements and the required insulation capacity.
This results in special advantages compared to other insulation solutions:
From simple to complex.

Small to large quantities
Meeting every customer requirement, from fast to extensive
Measurement on site
Make template
Digitization
Customization/Prototypes
Production
Optional:
Measurement on site
Make template
Digitization
2D construction
Programming
Customization/Prototypes
Production with partially
automated production via cutter machines
Base sampling
3D data from customer
Programming
3D printing
3D construction
Customization/Prototypes
Partially automated production via cutter machines
Premium sampling
Optional:
On-site measurement through mobile 3D scan
Reverse engineering
Slide
Ohne Isolierung
Mit Isolierung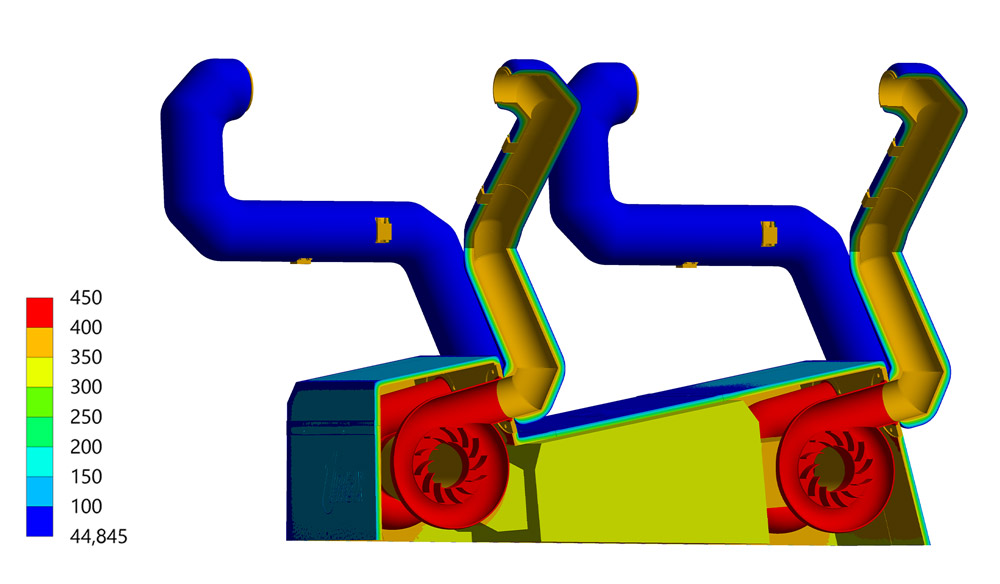 Thermische Simulation eines Abgasrohrs ohne und mit Textile Isolierung.
The proof:

contact protection of the highest quality
Optimum safety due to the highest material and quality standards
With over 45 years of experience as a solution provider in high-temperature insulation, tmax has been able to build a sophisticated research laboratory. In this laboratory, we can prove that our products deliver what they promise by using the latest technologies and broad technical know-how.
Our temperature simulation is used to determine temperatures at the surfaces of the insulation cladding, to be able to estimate whether the selected insulation configuration meets the required customer and legal specifications.
Exhaust gas values

that were hardly imaginable in the past
Targeted temperature control in exhaust gas aftertreatment is the key to compliance with the increasingly stringent emission standards set by the legislator for internal combustion engines.
Temperatures are controlled in the entire exhaust tract in such a way that the optimum conditions for exhaust gas purification prevail at all times at key points, while at the same time protecting temperature-sensitive components from heat input.
To meet emission standards, tmax develops and produces numerous custom-fit solutions for all series sizes. Particularly through the use of tmax Textile Insulation, values are achieved today that were hardly imaginable in the past.
Reduced fuel consumption
Improved light-off behavior
Reduced emissions of carbon dioxide, soot particles and nitrogen oxides
Protection of surrounding components
Faster. More reliable.
Textile insulation.
Short development times, high security of supply
Due to shorter development stages and the reduced use of tools, you have interesting advantages with a textile insulation solution compared to metallic insulation.
Short development times
Lower costs
Security of supply cannot always be taken for granted. Since all your projects are saved in shape, dimensions and materials, you can reorder from us at any time. Even after many years.
Structure of textile insulation
Meeting every customer requirement, from fast to extensive
The design and material combination of a textile insulation is always carried out according to the technical requirements as well as the individual customer wishes.
1. Outer fabric
Low temperature load
High resistance to dirt, water, oil, etc.
High demands on appearance and haptics
2. Insulation material
Glass fiber or silicate fiber mat
Insulation effect controlled by different material thicknesses
3. Inner fabric
Direct contact with hot component
Temperature resistance up to 1000° C
4. Vibration resistant fabric
Protects the insulation system from wear
Increasing the service life of the insulation for dynamically loaded components
Highest quality materials,

precisely fit for every application
Our custom-fit textile solutions protect people, machines and surrounding components from heat
Years of experience using high-quality materials in a wide variety of combinations and requirements allow us to customize textile insulation to fit any challenge and even highly complex shapes. In this way, the performance characteristics in relation to the
Temperature resistance,
Vibration resistance,
Weather resistance,
mechanical strength and
Chemical resistance
can be controlled in a targeted manner.
Uncompromisingly safe:

tmax RETROFIT also with Textile
Precisely fitting insulation solutions, for older motors as well
Worn out insulation increases the risk of fire and thus hazards to people, machinery, and image. There is a risk of long downtimes and increased insurance premiums. To remain economical, outdated insulation must be replaced.
With tmax RETROFIT, this process can be made smooth.
With the all-in-one package, we offer you all services – from the creation of the 3D data of your engine to the thermography of the insulation system, developed and installed for you – from a single source.
Let's talk, we have the answers.​
Tell us a little about yourself and we'll connect you with the right expert who can answer all your temperature insulation questions.