More than just an insulator

Agile and collaborative engineering
An advantage that our customers appreciate very much, is the fast product realization from prototype to serial product. Due to our agile and collaborative engineering, fast test and development cycles are feasible.
You name the requirements – we find the solution.
Our insulation solutions are as individual as your requirements. With over 45 years of experience as an expert in high-temperature insulation, we have acquired an unparalleled amount of knowledge, skill and professional problem-solving abilities, in addition to a wide range of products,which makes us the market leader in the industry today.
From concept creation to 3D CAD models and simulations to the design and series production of your finished insulation system– our highly qualified engineering staff will accompany you every step of the way to the optimal insulation solution. The integration of modern 3D printing technology into our development process also ensures the high quality of our products at early concept stages.
In short: with our know-how, your visions will come true faster.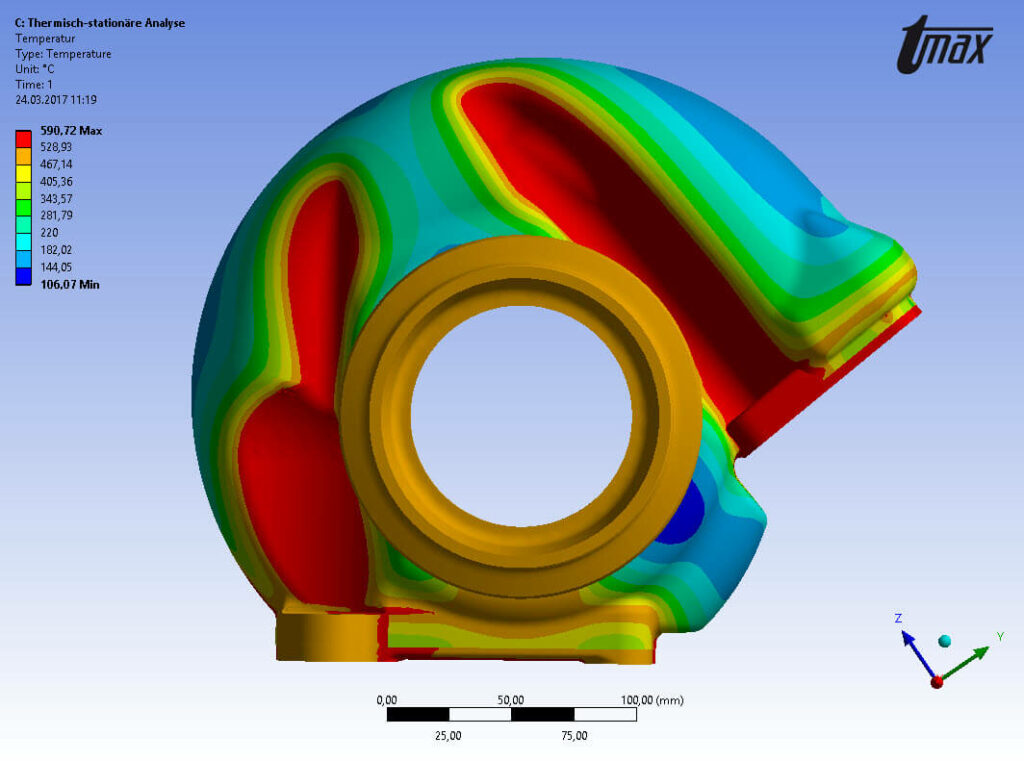 1. Engineering
Development and design of the insulating components.
2. Prototyping
Rapid prototyping and manufacturing of equipment in our in-house tool shop.
3. Manufacturing
Cost-effective and flexible production of small and large quantities.
4. Service
Do you have any questions? Our experts are always there for you.
Slide
Ohne Isolierung
Mit Isolierung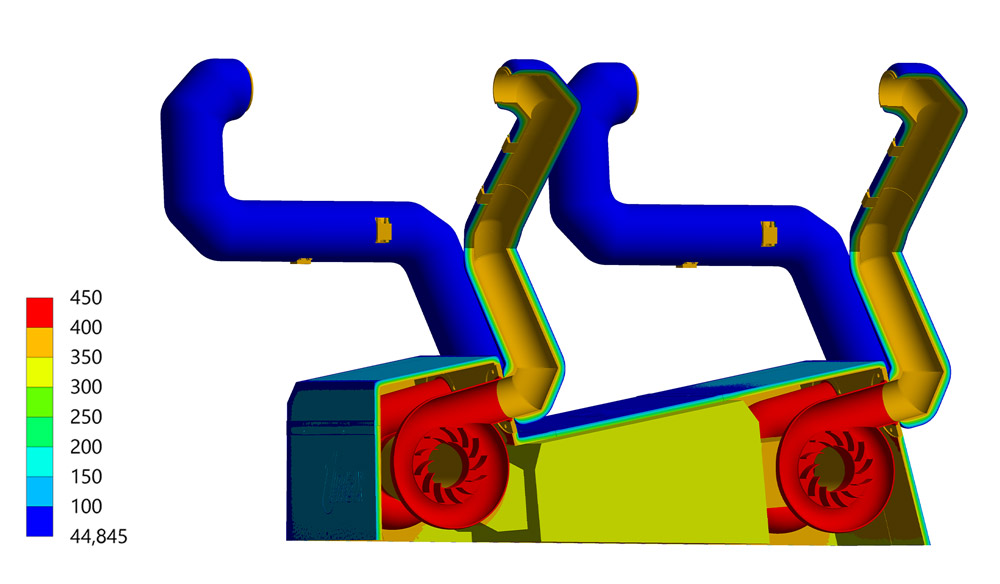 Thermische Simulation eines Abgasrohrs ohne und mit Textile Isolierung.
Get to the finish line faster: simulations and calculations
Developing new products takes time, but it doesn't have to
Unique in the industry: Based on tmax simulations, you can avoid the usual loops in the development process so that, if possible, only one prototype needs to be built for testing.
The use of numerous simulations and analyses in the engineering and development process and on the test bench also offers the following advantages:
Time and cost savings, as no development loops are necessary.
Identification of a need for optimization, such as hotspots on the cladding, as early as the design phase, with the possibility of implementing appropriate adjustments before the realization of a prototype.
Verification of fatigue resistance under mechanical load.
Ensuring the reach of required standards and regulations.
Our solutions are as individual as your requirements
From initial calculations to the first assembly of the prototype. In the design department, our highly qualified product specialists are always working to develop optimized and more cost-effective solutions for our customers' applications.
In-house competencies at tmax:
Tool making
Automatic fold closing devices
3D laser fixtures
Mounting devices
3D printing technologies
Internal maintenance of the equipment

We offer more than just insulation
We offer innovation
To provide this to our customers, we have created tbrain 2.0, a unique internal process for innovation, where our products are constantly optimized and enhanced with new solutions.
In the think tank, the Sales, Engineering, and Operations departments work closely with the management as well as external experts and institutions, so that the trends and challenges in new fields of application – such as decarbonization technologies in power generation – are identified at an early stage.
This enables us to meet our customers' future needs with efficient solutions. Our repeated "TOP 100" nomination as one of the most innovative medium-sized companies in Germany, as well as our numerous invention disclosures, confirm our claim to further expand our market and technology leadership in the field of high-temperature insulation.
R&D: Solutions for tomorrow's challenges
Research and development at tmax
Meeting stringent emissions standards, reducing fuel consumption, improving efficiency, reducing component weight, and more. Engine and vehicle manufacturers have to meet numerous and ever-changing requirements.
Our goal is to actively support you in meeting these challenges by delivering custom-fit and innovative insulation concepts. Research and development plays a key role in this.
In this area, we focus on:
Materials engineering
Process and production engineering
Design methodology: thermal, acoustic, mechanical
Product life cycle: durability, weight, recycling, etc.
Only continuously improved materials, sophisticated and mature process and manufacturing techniques, and well-thought-out design methodologies ensure the provision of economical and forward-looking products.
In-house test and inspection laboratory
Get your wanted results faster
Flawless materials and components form the basis for competitive, innovative and reliable products. To be able to offer our customers only the best end products, all the materials we use are subjected to various tests in our in-house inspection and testing laboratories.
Thermal, mechanical and acoustic behavior of the components are simulated, tested and calculated in detail. The results obtained in this way accelerate the development and manufacture of a functional, high-quality end product. With tmax, you save valuable time and money, and also increase the efficiency of the entire design and manufacturing process.