Controlling temperatures, improving exhaust gas values in the
automotive sector
Thermal and acoustic insulation systems from tmax make a decisive contribution to efficient exhaust gas aftertreatment of your passenger cars. From innovative conception to series production – with us, you get everything from a single source.
More efficiency

Better values
Customized, intelligent insulation systems
Thermal and acoustic insulation systems from tmax make a decisive contribution to efficient exhaust gas aftertreatment of your passenger cars. From innovative design to series production – with us, you get everything from a single source.
Fulfillment of exhaust emission standard
Protection of surrounding components
Meet guidelines

Increase protection


Increase efficiency
Whether it's an increase in engine efficiency, reliable exhaust gas aftertreatment or effective noise control – our solutions make a decisive contribution
Exhaust gas aftertreatment
Controlling temperatures in exhaust pipes so that the optimum conditions for exhaust gas cleaning are available at all times at any critical point, while protecting temperature-sensitive components from heat input.
DPF and SCR
Individual temperature design for hydrolysis section and light-off. Ensuring a constant system temperature and maintaining narrow temperature windows. The better the temperature design, the better the performance.
Expansion joints and flexible hoses
The fully encapsulated metallic tmax compensator insulations, integrated into the overall system, close this gap in the thermal system and reduce temperature loss.
Cast iron manifold
Channel extremely high temperatures, protect surrounding parts – even in the tightest of spaces. Accelerate light-off behavior with highly effective insulation – at minimal insulation thicknesses and low additional weight.
Efficient, clean, and quiet
International limits have been set to reduce pollutant emissions from passenger cars. Currently, the emission directives EURO 6, EURO 7 and the EU Regulation 540/2014 on the "noise level of motor vehicles" apply.
In addition, there is increasing pressure from consumers and politicians to offer new drive technologies such as lithium-ion battery systems, fuel cells or hydrogen engines. In addition, the efficiency of trucks and buses must be increased and cost-effectiveness ensured.
Avoid energy losses directly at the source
Efficient exhaust gas aftertreatment with tmax insulation solutions
Thermal insulation from tmax maintains the necessary process heat within the system (turbocharger, manifold, exhaust tract, DPF, SCR, …), thus making a decisive contribution to more efficient exhaust gas aftertreatment.
The effective prevention of energy loss in the exhaust tract offers the following advantages:
Prevention of urea crystallization: Heat retention prevents crystals from forming in the diffuser area and reducing the effectiveness of exhaust gas cleaning.
Improved light-off behavior: Optimum temperatures in the exhaust gas aftertreatment system are reached significantly faster, exhaust gas aftertreatment works earlier and better, resulting in better exhaust gas values.
Hydrogen engines:

The future has a heat problem, tmax the solution
One of the greatest challenges of our time is the pollution of our environment by greenhouse gases and pollutant emissions. Alternative drive systems, such as forward-looking hybrid and environmentally friendly and quiet electric drives, will become increasingly important in the future, primarily for light commercial vehicles in delivery and distribution traffic.
And tmax is a part of it, with proven excellent results in increasing efficiency.
As the industry leader in smart insulating solutions for the hydrogen market, we increase the efficiency of hydrogen engines, turbochargers and manifolds, including for the automotive sector.
Slide
Ohne Isolierung
Mit Isolierung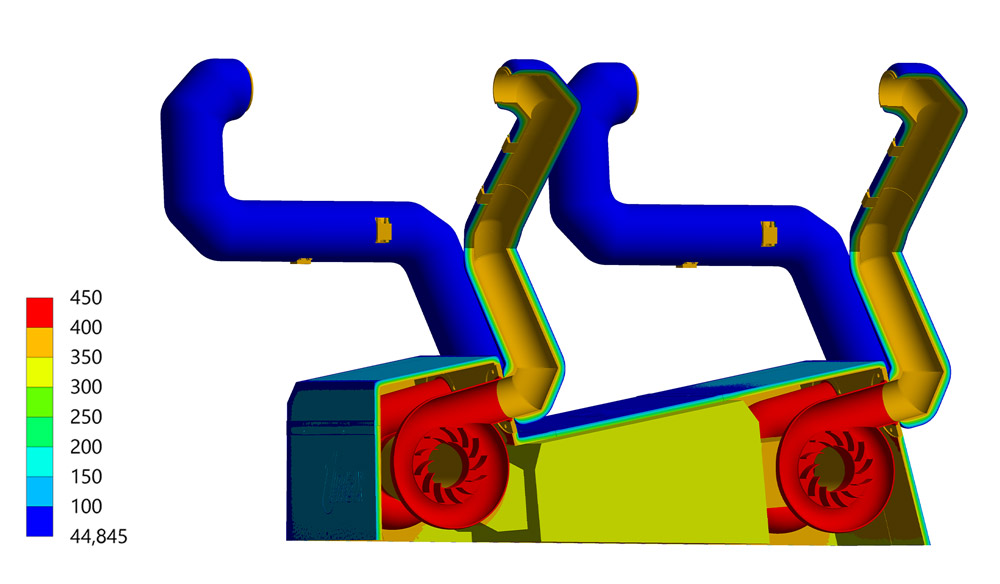 Thermische Simulation eines Abgasrohrs ohne und mit Textile Isolierung.
More simulations,
fewer prototype cycles, lower costs
Developing new products takes time,
but doesn't have to
Unique in the industry: tmax simulations save you endless loops in the development process.
Find thermal weak points
Vibration simulation for predicting the behavior of a virtual component
Simulation for the evaluation of concepts and designs
This way we can identify and eliminate weak points and shorten development times and reduce unforeseen costs, even before a prototype is produced.
We have something against water
The first high-temperature insulation that also protects against water
In wet weather or during engine washing, insulation fibers can easily become saturated with water. The result is a delayed light-off behavior, as the system loses valuable heat as the fiber dries. In this phase, consumption and emissions of passenger cars are particularly high. In addition, the durability of the insulation deteriorates because salt and dirt particles penetrate the fiber along with the water and are deposited there after evaporation.
Compliance with emission standards
Effective reduction of consumption
Easy assembly and disassembly
tmax-DryTec is applicable to all tmax fibers.
These topics might also interest you
In the on-highway industry, optimum temperature control and sound attenuation must be combined with high durability and ideal maintenance conditions.