With our all-in-one package, we offer you all the important services for a successful project – from the creation of the 3D data of your engine, the research and development, to the thermography of the insulation system developed and installed for you – all from a single source.
New and retrofittable solutions for more safety in the engine compartment
If a fire breaks out on ships or boats, human lives are seriously at risk. At the same time, an outage always means a loss of productivity and profitability, and can have severe financial consequences.
Therefore, it is important to us to support you in always meeting SOLAS compliance. For this purpose, we offer regular inspection intervals, during which the insulation on your engine is checked for SOLAS compliance. We will inform and advise you on the conformity of your insulation system. Regardless of whether you want to renew the insulation yourself or order it from us, if necessary. Upon request, we will supply and install the appropriate replacement insulation when weak spots or hotspots are identified.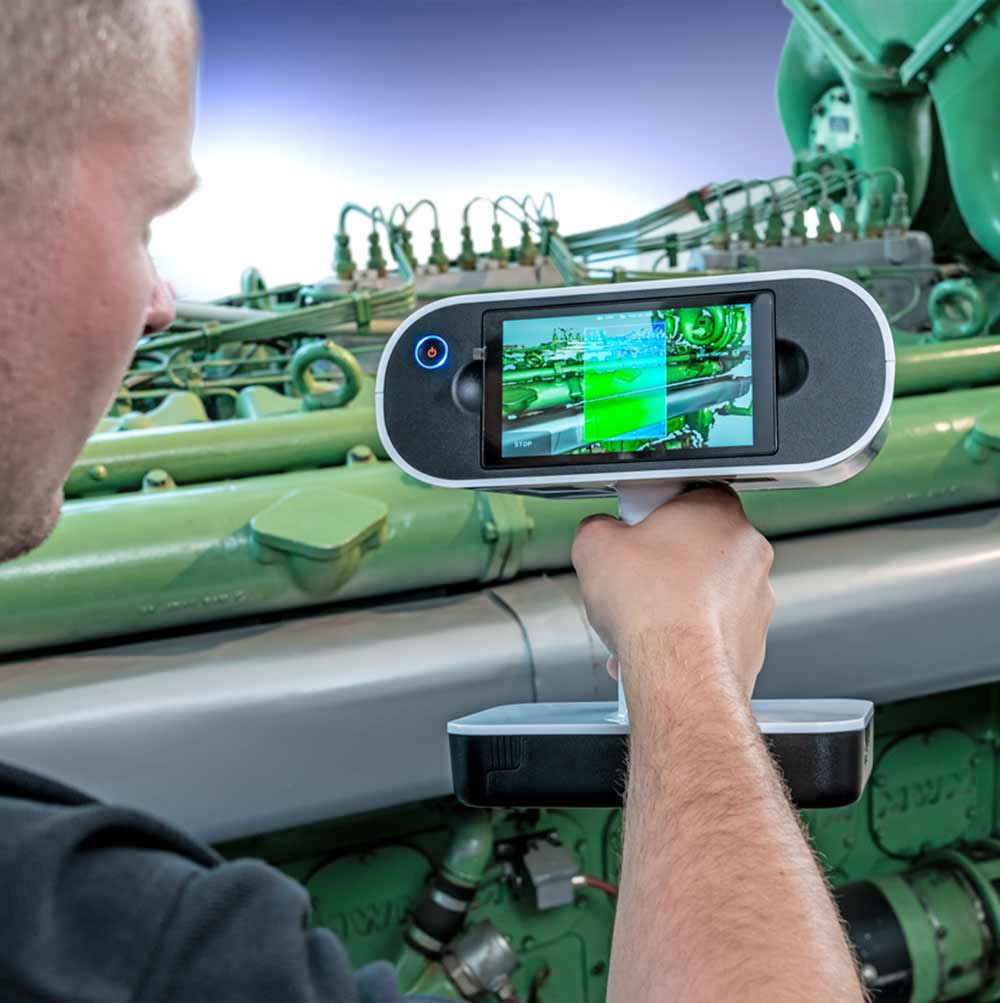 3D scan:

fast, safe, cost-effective
Capture real objects virtually
Throughout the entire development process, tmax uses 3D design data for efficient product development and the highest product quality. If the CAD data required for your engine is not available, we will be happy to create it for you via 3D scanner and reconstruct the complete data sets (reverse engineering), especially for older components with missing or insufficient documentation.
3D scanning is one of the fastest, safest and most cost-effective ways to create high-quality 3D models of objects of all kinds.
A 3D scan is a non-contact process that digitally captures the shape and surface textures of a real object. For this purpose, the object is scanned in a defined manner with light of a specific wavelength – usually laser or blue light. Due to the distance and angle of the incident light beams, the multitude of individual measurements result in digital 3D point clouds that create an exact image. This can then be further processed, analyzed and visualized.
We also offer the 3D scan independently of an order for our tmax insulation systems. For testing or digitizing operating equipment, for determining manufacturing tolerances or for 3D printing, among other things.
Uncompromisingly safe:
tmax RETROFIT
Precisely fitting insulation solutions, for older motors as well
The wear and tear on insulation systems increases the risk of fire and thus the dangers for man, machine, and image. There is a risk of long downtimes and increased insurance premiums, or in the worst case your ship may even be chained up. To remain economically viable, outdated insulation must be upgraded.
With tmax RETROFIT, this process can be made smooth.
With the all-in-one package, we offer you the complete service – from the creation of the 3D data of your engine, to the thermography of the insulation system newly developed and installed for you – and all from a single source.