Properly insulate
turbocharger
The turbocharger compresses the combustion air supplied to the engine, thereby ensuring more efficient combustion and more power with the same fuel consumption. Turbocharger insulation enhances this effect and at the same time brings further benefits in terms of greater occupational safety, fire protection and improved emission values.
It is not uncommon for the exhaust side of the turbocharger to reach temperatures of over 1,000 °C, which pose a danger to people, machines, and the economy. With turbocharger insulation, risks can be minimized and, in addition, efficiency can be increased and better emission values achieved.
Small, medium and large
turbochargers
Three different high temperature solutions
for different industries and applications
A wide product range of different insulation and insulating materials makes it possible to solve any challenge in the high-temperature range.
Metal turbocharger
Insulation
High insulation value
High durability
Self-supporting construction
Easy assembly
Ease of maintenance
Marine
Industry
Off-Highway
Foils turbocharger
Insulation
Precisely fitted to the component,
for complex building tail geometries
Light weight and space saving

Optional:

Water repellent insulation material

Optional:

Reinforced sound insulation
Automotive
Motorsport
Truck & Bus
Textile turbocharger
Insulation
Simple to complex insulation solutions
Perfect touch protection
Quick assembly and disassembly
Short development times
Low tooling costs
Maximum temperatures under control
The advantages of metallic turbocharger insulation
Fires often start in the engine compartment, where there are very high temperatures as well as highly combustible materials and debris. With tmax insulating cladding, optimum fire protection as well as burst and explosion protection is guaranteed, protecting man and machine from breakdowns.
Metallic turbocharger insulation reduces the surface temperature of all components to below 200 °C; on request even down to 60 °C.
But that is not all. Added to this are improved emission values, extended service life and high service and maintenance friendliness.
360° view of a turbocharger with metallic cladding. With the off or finger movable.
Precise fit for optimum insulation protection
The advantages of tmax foil turbocharger insulation
In the automotive and on-highway sectors in particular, it makes sense to insulate turbochargers with space-saving and ultra-light insulation made of stainless-steel foil.
Our foil insulation makes a decisive contribution to increasing the efficiency of your turbocharger. The foil insulations fit around the highly complex outer contours of the turbocharger to be insulated with millimeter precision, and likewise increase the reliability and extend the service life of the surrounding components.
Best suited for high temperatures
The advantages of tmax Textile turbocharger insulation
The Textile Insulation is a removable multi-component insulation shell made of technical fabrics with incorporated insulation material. Due to the flexibility of the insulating moldings, it offers maximum individual, precision-fit fabrication.
This results in advantages such as minimizing the heat-up time of the turbocharger and, in the marine industry, meeting SOLAS guidelines.
The proof – tmax

insulation reliably reduces the temperature
Temperature analysis of an isolated turbocharger
With over 45 years of experience as a solution provider in high-temperature insulation, tmax has been able to build a highly sophisticated development and testing laboratory. In this laboratory, we can prove that our products deliver what they promise by using the latest technologies and broad technical know-how.
Our temperature simulation is used to determine temperatures at the surfaces of the insulation cladding, to be able to estimate whether the selected insulation configuration meets the required customer and legal specifications.
Do you have any questions?
We have the right answers
These topics might also interest you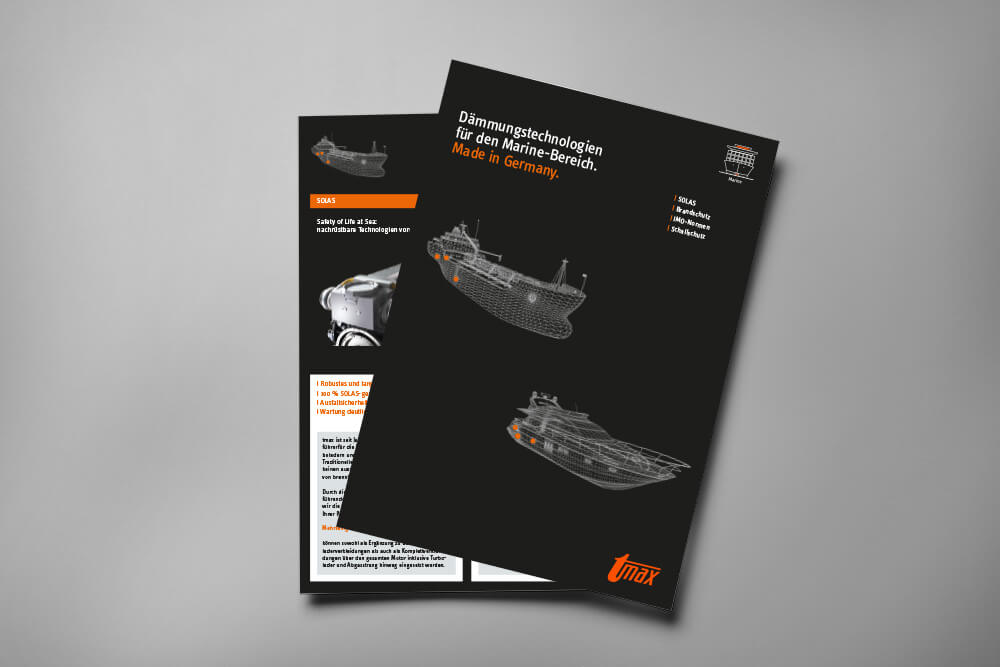 Comply with SOLAS regulations and IMO emission standards, optimize fire protection in a targeted manner.
Almost all leading companies in the marine sector use the know-how and technologies of the tmax brand. Learn what makes the leader in SOLAS insulation.
Successful insulation concepts for passenger cars. From new development to series production.
Suitable for temperature requirement to support exhaust aftertreatment, protect surrounding components and reduce engine compartment temperatures.
Insulation technologies
for off-highway vehicles.
When high-horsepower engines operate safely and efficiently off-highway and easily comply with valid emission standards, it usually means that creative solutions from tmax are involved.